Giant Electric Corporation is an Arizona Full Service Electrical Contracting company. Founded by Chris Thompson in 1992, Giant Electric has grown from a small service company to a multi-million dollar organization working throughout the Phoenix Metropolitan Area.
Giant Electric does industrial and commercial power, lighting, machine controls, and solar repair to order. We do tenant improvements, site lighting, new construction, computer cabling, and underground power infrastructure for both commercial and industrial customers.  Our service is second to none.  We work hard to get the right price, and to finish on time.  Tell us what you want, and we make it happen.
Contact us today to see what we can make happen for you!
We understand your needs as a general contractor. When we submit a bid, you can be confident that it is competitively priced. We also feel deeply that contracting is a matter of trust. It isn't just us who need to stand by our work, but you as well. We don't ever forget that.
That's why from estimating to completion, Giant Electric works to make things happen for you. You can be confident that when you ask us to complete a job for you, that it gets done on-time and for the price we promise.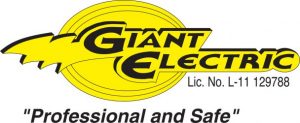 Call for Service:
Office: (623) 847-3221
Email: [email protected]
Giant Electric Corporation
5408 W Myrtle Ave
Glendale, AZ 85301